INESCAPABLE by Amy A. Bartol
Book #1 of the Premonition Series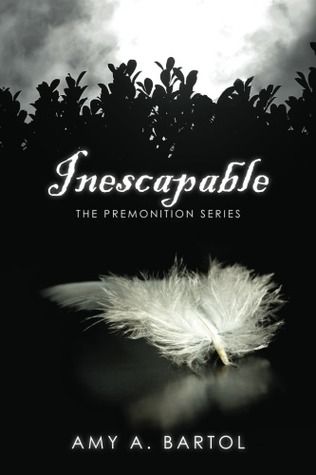 "My name is Evie Claremont and this was to be the making of me–my freshman year of college. I'd been hoping that once I'd arrived on Crestwood's campus, the nightmare that I've been having would go away. It hasn't. I may be an inexperienced seventeen-year-old, but I'm grounded…sane. I look for rational explanations to even the strangest circumstances. Since meeting sophomore Reed Wellington, however, nothing makes any sense. Whenever he's near, I feel an attraction to him–a magnetic kind of force pulling me towards him. I know what you're thinking…that sounds fairly awesome. Yeah, it would be…if he liked me, but Reed acts as if I'm the worst thing that has ever happened to Crestwood…or him. But get this, for some reason every time I turn around he's there, barging into my life. What is the secret that he's keeping from me? I'm hoping that it's anything but what I suspect: that he's not exactly normal…and neither am I. So, maybe Crestwood won't be the making of me, but it could be the breaking of me. I've been left to wonder if the dark future my dream is foretelling is…inescapable."
In all honesty I started this book and immediately began to wonder if this was going to be a rip off of the 'Twilight Series'. Much to my eternal happiness I quickly found that this was something much different, and far more enjoyable for my tastes (and a story I couldn't put down until I'd completely devoured it....and bought the following 3 books in the series).
Amy's writing is beautiful and easily held my attention throughout this installment in the Premonition Series. This is one of the best 'self-published' books I've read in terms of grammar and clean editing. Color me impressed.
It took a little while for me to find myself warming up to Evie, mostly because at that point I'd had this nagging in my head saying..."Please not another Bella", but once I pushed back my emotional literary baggage I found myself laughing along with her snarky remarks and awkward moments. Her character does grow throughout the story as trials and tribulations get thrown her way, and for the most part she does react how one might in the craziness that quickly consumes her life. She is a stubborn young woman, with goals and a caring heart. Also a little sleep deprived due to a serious case of nasty nightmares that as you'll read may have you paying closer attention to your own.
All in all I found Evie to be a fairly well rounded character. Both her inner monologue and dialogue had me cracking up and wiping tears.




"He isn't wearing a shirt.... He shouldn't just walk around like that; it's obscene to have to look at someone so perfect. He should do the world a favor and eat a donut or two."
Now, onto my dear Reed. This character started out as a true A--hole. The only thing he had going for him to start was some pretty drool-worthy good looks. However, once his attitude had a quick adjustment I found myself looking for him when he was absent from the page. As the love interest for Evie it took a little while for me to jump on board, but once I did it was a fun ride. Like many male characters in paranormal romance he tends to be highly overprotective, stubborn, and jealous...but not enough that I was turning my nose up at him. Reed has quickly wormed his way into my 'book boyfriend' list and a great big THANK YOU to Amy for the lovely recruit!
Russell (who could be considered boy #2 in the not-so-love-triangle) immediately becomes a close friend to our Evie. Vying for her attention and trying to keep her as far away from Reed as possible. Evie's love for him, and his for her is written well and you can feel how close they are. A beautiful friendship blossoms, as well as life changing events, and this character is probably one of the easiest in the story to grow to love. I know I did. And as distracting as his accent could be at times, Amy was successful in getting his personality to come to life on the page.
Now, I'm not one to post spoilers. Just give a little insight into how I feel after finishing this book. Evie, Reed, and Russell were great additions to my literary friends. As well as the 'oh so serious' Zephyr'...and the hilariously insane, and high energy Buns and Brownie. I laughed, cried, got angry, and fell in love with the characters and their story. If you are a fan of paranormal romance of the young adult variety, and of characters you can relate to and care for easily then I can definitely recommend you check this book out.
Be sure to head on over to Amy's Website to check out her other books...
Here is a list of the Premonition Series: